Happy Thursday! I've been MIA on this for a few weeks and I'm terribly sorry about that. But now I'm back! And ready with a new post for the…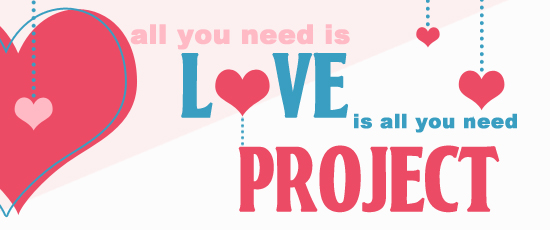 So what's on the love agenda this week? "Our monthly tradition of having a love free-for-all topic is next! Post anything your heart desires about love next week. The only requisite is that you share your love with the rest of us."
Yay, a free-for-all!! I love open-ended prompts. So much fun! 🙂
So what do I want to write about this week? I think I want to go with this picture.

Well, obviously I love the two people depicted above, but I'm talking specifically about what they're doing in the picture. You might say, "Oh, how cute! A father and son playing with racecars together!" And that's true, at first glance. I love that Hubs and Joshua are playing so nicely together here. That, however, isn't my point; the point goes much further than that. When my boys play cars together, two very specific things happen. One, they both take on this very focused and serious demeanor — because playing with racecars is serious business, don't you know?! And two, they work together to line up the cars in rows, whether on the kitchen table or the living room floor or Joshua's bed or the TV stand. Wherever they play cars, they form lines with the cars like the next step in their game is to put them through the torture of inspections at the DMV. It's all very OCD, which I believe Joshua inherited from Hubs. See, Joshua doesn't do this with any of his other toys — only with the Matchbox vehicles — and every time they come out of their buckets, they inevitably wind up in long rows somewhere in the house.
The other reason why I wanted to share this as my love for the week is because of how precious a memory like this is to Hubs and I. He works several jobs so that I can stay at home, and thus his opportunities to play with Joshua are few and far between. When one presents itself, the boys take full advantage; sometimes Joshua wants Daddy to chase him around the house, or play hide-and-seek, or do yard work together. Those things are all great bonding activities, but playing "trucks, cars, and racecars," as Joshua calls it, really illustrates how alike father and son are. Not only do both of them have OCD tendencies, but they make the same kinds of faces when they play. They work out between themselves the best ways to line up the cars. They sit together so quietly, so seriously, and yet they're having the time of their lives together.
And their quiet, their seriousness, brings me nothing but unadulterated joy!
So, how about you? What are you loving this week?
Click through to learn more about Carmen and the All You Need Is Love Project!