Last week, I announced my participation in my good friend Carmen's (a.k.a. Mrs. ShuGar) awesome new project, called the All You Need is Love Project. This week, my work in the project continues!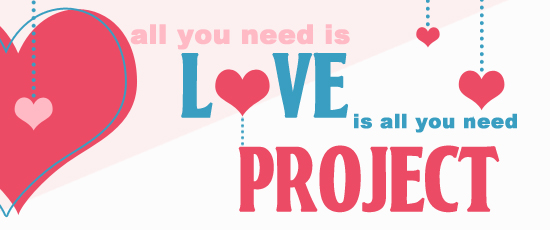 So this week Carmen wanted to know, How do you show the love to your loved ones?

With Joshua, it's easy: lots of hugs and kisses, as often as he'll let me! Taking care of him — everything ranging from changing diapers, feeding, and bathing to reading books, dance parties, and field trips — are all ways that I show my love. He's currently an only child, so it's nice to spoil him with lots of attention….but the occasional Elmo-frosted cookie cup never killed anyone, either.


My sweet Frankie is even easier! Belly rubs, bedtime cuddles, and the daily Dentastix treat are all he needs to be one happy puppy! He hates the cold and won't even walk out the front door if the foyer (where his food and water bowls are) is too cold, so I can't wait for the weather to start warming up, and for Hubs to fix the gate, so he can go outside and sunbathe. His birthday is coming this Saturday — he'll be 5 in human years — so he's got some new tennis balls and a scoop of vanilla ice cream waiting for him! Because come on, how can you look at this face and not want to give him a little something special on his birthday??


I'm including one of my two best friends, Becca, in this list because of the fertility issues that brought us together more than three years ago. Our husbands were friends first and introduced us; Becca sent me a very long email, which I loved (because I tend to write novels in emails as well), and we've been virtually inseparable ever since. So how do I show her that I love her? I compliment her appearance…which I know sounds shallow, but she's a beauty blogger and makes her living from changing her makeup, and not only does she make it look easy but she truly looks fabulous doing it! Another way I show the love is to text her often — she lives in South Carolina, while I'm in New Jersey, and Joshua tends to hijack my phone and hang up on whatever call I may be in the middle of, so I try to at least say hi and ask how she's doing every day. I'm also one of her closest supports when it comes to all things PCOS! I just make sure to be there for her when she needs me, whether it's for advice or help, or just to be a sounding board.

I'm also including my other best friend, Diana, because we've been very close for many years and also because she's Joshua's godmother! We show each other love in the simplest of ways: by arranging playdates for our boys! They love spending time together, and they're learning new things from each other. James is developing his speech and vocabulary, while Joshua is practicing how to share. Diana is smart, pretty, and fun, and we love being around her and her family. I also show her husband, Jimmy, a little love when I can by cooking for him; he adheres to a strict gluten-free diet and I like making sure he knows how much we appreciate him being Joshua's godfather by sharing a little culinary love.

The Hubby is the hardest one because he works so much and, as a result, doesn't spend as much time at home as we'd all like him to. But, as they say, "the way to a man's heart is through his stomach," so when I make dinner, I always make sure to keep a plate warm for him. He really feels the love when he pulls the aluminum foil off the plate and discovers his favorite meal calling his name.

He especially loves it when there's some left over to take to work the next day! It's like extending a hug from the previous night all way through the morning commute and into the office. I know how happy the food makes him (not to mention, it saves him from having to spend money on lunch), and that makes me happy.
My other favorite way to show Hubs love is through physical contact! I know, I know, you don't want to know about my sex life! But that's not what I'm referring to; instead, I'm talking about holding his arm when we go out, whether we're out as a couple or with Joshua as a family (and besides, it's good for Joshua to see his parents show affection for each other — it will hopefully show him that we love each other, and that this is how people you love are supposed to be treated). I'm talking about holding hands; about walking side-by-side, falling into step with our his arm around my shoulders and mine around his middle, him on the right and me on the left (so my purse-carrying arm is free to keep said purse from falling off my shoulder); about giving each other little pecks on the lips at random times throughout the day, not caring whether we're at home or in public; about him driving with my left hand resting on his leg from the passenger seat. It's knowing that we love each other, that we treat each other with care, and that we support each other, no matter the circumstances.
And that's just the beginning of how I show the love. In what ways do you show love to the important people in your life?