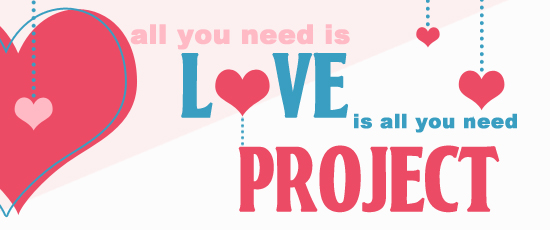 I'm so happy to announce that I've joined in with the lovely Carmen at ShuGar Love to participate in her new blog project, the All You Need is Love Project!! It's very exciting and I'm thrilled to be taking part. Carmen and her hubby, Mr. ShuGar, are big Beatles fans (as I'm sure you'll realize the second you hit her blog) and they're currently expecting their first child! I hope you'll visit Carmen's site and get to know her. You'll love her as much as I do, I promise!
So for my first All You Need is Love Project post, Carmen asked a simple question:
How do you know when you are in love? What does it feel like to you?
I'd always heard the phrase that "when you know, you know!" but it wasn't until I met The Hubby that I actually discovered the truth of that phrase. Every time we made eye contact, I felt butterflies; my heart beat a little faster; and I found myself unable to think of any man except for him. I could say that the last time I fell in love was when I met my husband 12 1/2 years ago…but every time he tells me I'm beautiful, reminds me of what a good mommy I am, or even if he clears the dishwasher or picks up our son's toys, I fall in love with him all over again. And that feels like warmth starting in my belly and spreading its way up, down, and all around my body until I feel like I've been swimming in sunshine.

So, how about you? How do you know you're in love? What does it feel like to you? Let me know in the comments!